I Scream, You Scream, We All Scream for Ice Cream! Butternut Crunch and Rocky Road, Napoleon and Caramel Swirl, there are hundreds of flavors of Ice Cream to sample and flavor, and the hot months of the year are perfect for indulging in this fantastic dairy delight. Since childhood this treat has defined most of our lives, with the sound of the Ice Cream man driving down the street marking some of the best moments of our lives as we ran screaming down the sidewalk, money in hand, to catch him before they got away.
History of Ice Cream Month
Ice Cream Month was established by the American Dairy association in conjunction with President Ronald Reagan and Walter Dee Huddleston, a Senator from Kentucky. On the backs of this incredibly official declaration, the Ice Cream companies began publicizing the day, encouraging people to go out and enjoy this cold delight as often as possible during the month of July. Ice Cream was first said to be created in Ancient Greece, before the idea of a refrigerator ever came to pass. The so-called "Ice Cream" was incredibly rudimentary, being a mixture of snow honey and fruit, but it was still the beginnings of a great tradition.
The first true Ice Cream was said to be introduced by Catherine de' Medici in the 16th century. So impressed was Charles I of England (one hundred years after this introduction) that he paid to keep the formula secret, making ice cream a royal prerogative, utterly unobtainable by the common man. The first recorded recipes didn't exist until the 18th century. Truly Ice Cream was a treat meant for the most notable of humans, and now we can all enjoy it any day of the year! Ice Cream Month encourages us to be particularly indulgent during the month of July!
How to Celebrate Ice Cream Month
Ice Cream Month has only one appropriate celebration, gorge yourself on Ice Cream at every opportunity! Ok, ok, moderation is necessary even during Ice Cream Month, but there are a bunch of different ways you can enjoy this delicious treat. It goes great with a warm apple pie, and nothing compliments a brownie better than vanilla ice cream. Maybe you prefer a nice scoop of strawberry doused in caramel topping, or that most amazing of all ice cream treats, the Ice Cream Taco! You can even take the time to make your own ice cream during Ice Cream Month and enjoy the fruits of your labour on a hot summer evening!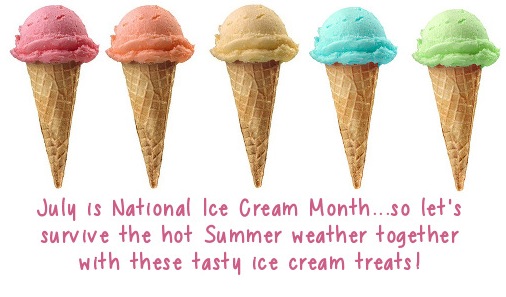 In 1984, President Ronald Reagan designated July as National Ice Cream Month and the third Sunday of the month as National Ice Cream Day. He recognized ice cream as a fun and nutritious food that is enjoyed by over 90 percent of the nation's population. In the proclamation, President Reagan called for all people of the United States to observe these events with "appropriate ceremonies and activities."
The International Ice Cream Association (IICA) encourages retailers and consumers to celebrate July as National Ice Cream Month. In 2015, National Ice Cream Day will be Sunday, July 19.
About 10.3 percent of all the milk produced by U.S. dairy farmers is used to produce ice cream, contributing significantly to the economic well-being of the nation's dairy industry.
Founded in 1900, IICA is the trade association for manufacturers and distributors of ice cream and other frozen dessert products. The association's activities range from legislative and regulatory advocacy to market research, education and training. Its 60 member companies manufacture and distribute an estimated 85 percent of the ice cream and frozen dessert products consumed in the United States. IICA is a constituent organization of IDFA.