Awareness Week 2016 – Is it coeliac disease?
What's Awareness Week all about?
Awareness Week is our next big push to improve diagnosis and to empower more people to ask themselves 'Is it coeliac disease?' Join us as we try to find the staggering half a million people in the UK who remain undiagnosed – we're building on the success of last year's Is it coeliac disease? campaign for 2016 and we need you! From 9 to 15 May 2016, we'll be highlighting the most commonly reported symptoms of the condition, including anaemia, with a range of initiatives. Whether you have five minutes to give or fifty, there's a way for everyone to join in.
Is it coeliac disease?
There are a range of symptoms including constant mouth ulcers, crippling fatigue, stomach pain, regular bouts of diarrhoea, anaemia and weight loss. If you suffer from these or other unexplained symptoms, take the assessment and see if you are at risk of coeliac disease.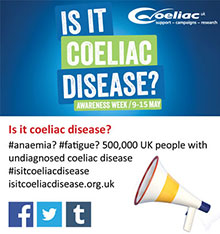 Get involved
Help us take over social media
It only takes a few minutes to support Awareness Week online. You can join in with our Thunderclap campaign or take a symptoms selfie from the comfort of your own sofa – what could be easier?
Support our Thunderclap campaign
Thunderclap campaigns take social media messages to the next level, and we're hoping to reach more people than ever before with our Awareness Week campaign. It couldn't be simpler: after you pledge your support on our Thunderclap page, during Awareness Week a status featuring our key message, 'Is it coeliac disease?' will be sent out from your account, as well as that of all our other supporters. This means that we can make some serious noise on Twitter, Facebook and Tumblr. Pledge your support now.
Take a symptoms selfie to win
They say a picture paints a thousand words, so what better way to spread information about coeliac disease than to take a photo of you explaining one of your symptoms? Get creative, strike a pose, and upload to social media – not only will we sharing our favourites, but the best one will win a copy of Phil Vickery's latest gluten-free cook book!
Order your frame now and post your symptoms selfie to our Facebook wall or tweet it to@Coeliac_UK.
Pop up event
During the Week we'll be hitting the streets of Manchester at our pop up event, where we'll be talking about the symptoms of coeliac disease, handing out leaflets and offering on the spot testing to those at risk.
Come and join us in Manchester, Piccadilly Gardens from Monday 9 May.
National Coeliac UK Leafleting Day
It's all about spreading the word, which is why, with the help of our volunteers, we'll be taking to the streets to raise awareness for National Coeliac UK Leafleting Day on Saturday 14 May. We're thrilled to have the support of Marks & Spencer, offering up its stores as locations across the country for the whole day.
Find out more on our diagnosis campaign
Visit our campaign page to find out more on our diagnosis campaign.
Request an Awareness Week campaign toolkit
To request your pack, complete the online order form and we will send one out to you.